December 25, 2018
Monday | December 24, 2018 | 17:15 PM
Today she celebrates His birth with unrestrained joy. "The Word was made flesh and dwelt among us." The Son of God became man to give us a share in that divine life which is eternally His in the Blessed Trinity. Christmas time begins on December 24 with the first Vespers of the feast and ends on the feast of the Baptism of Christ. White vestments reappear in our churches as a sign of joy.
The Christmas feast is a festival full of joy. The Eternal Word has become Man and dwells among us. The longings of the patriarchs and prophets are fulfilled.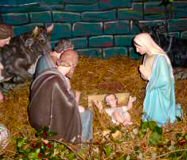 With the shepherds we hurry to the manger and adore the Incarnate Son of God, who for us and for our salvation descended upon earth. The purpose of the Christmas feast is beautifully expressed in the Preface of the Nativity: "For by the mystery of the Word made flesh the light of Thy glory hath shone anew upon the eyes of our mind; so that while we acknowledge Him a God seen by men, we may be drawn by Him to the love of things unseen."
The Pastor's Desk
Read Fr. Julian's reflections on the weekly readings.
Subscribe
Recent